Geelong Blue Light Disco 2016
The annual Geelong Police Blue Light Disco Dance Parties were held each day from Monday 21/11/16 to Friday 25/11/16 (11.30am to 2.00pm) at the Geelong West Town Hall. Grade 5/6 students from Primary Schools in the region were invited with numbers of attending students from the schools varying from as low as 5 students from a smaller school to 146 from one of the larger schools. Over the 5 days over 3,000 students attended along with approximately 150 staff members (teachers).
A core group of police members and staff organised the events with other police members/unsworn staff/volunteers/family members/friends assisting at various times over the days with running the events. A large amount of time and effort was required to organise and stage the Discos with members involved devoting many hours into this on a voluntary basis.
At the beginning of each disco, with an audience of over 600 students and accompanying teachers, L/S/C Robbie Noggler from the Community Engagement Unit at Geelong gave a talk that this year related to Personal identity protection, its relevance in relation to each individual student and what each individual can do to become safer when on-line.
This talk was extremely well received and has become a major part of the discos – the feedback from both students and teachers being positive. Many schools followed up from these discos with curriculum and class discussions/activities aimed at expanding the issues that were raised during this talk. Previous year's talks have covered topical issues relating to youth including Cyber Bullying, Facebook Protocols and Dangers, Domestic Violence, Mechanisms for coping with Challenges and general Police/Youth issues.
The Primary School Blue Light Discos that are run by Geelong B.L.D. for the younger 10/11/12 year olds (Grades 5/6) are an annual event. Having these events run by police, during school time and with teachers attending, encourages ongoing communication and liaison between the schools and police – feedback from the students and teachers is constantly encouraging. Breaking down the barriers is a key component of the discos. Police members for the most part are in uniform and interacting with students on the dance floor and stage each day, as well as interacting during the sales of confectionery and glow products.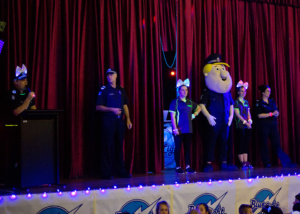 Appreciation is extended from the Blue Light Disco committee to all members and their families who assisted in 2016.
It cannot be underestimated or over emphasised the impact these events have on students who are entering their teenage years and how it promotes such positive views and opinions by them towards police – views that, although impossible to measure, may well assist police and the community as they mature into adults.